**Like Father, Not Like Daughter: A Conversation With Actress Turned Director Domenica Scorsese.
The offspring of Martin Scorsese takes the economy personally in her first dramatic feature film, Almost Paris. Delving into the current economic crisis in this country and the stock market disaster, reflected in the class tensions and divisions within one suburban family. And a title incidentally taking on new meaning with the current Paris uprisings. Perhaps best known for her turn when just a teenager in father Martin Scorsese's scary thriller, Cape Fear in 1991, Domenica phones in to Arts Express from the Tribeca Film Festival where her movie premiered. And discussing her venture into filmmaking as dodging those stereotypical typecasting traps for actresses, of 'the mother, the whore and the crone.' Also, what Domenica and Martin Scorsese's Taxi Driver happen to have in common; and a secret she has to share about her father.
LISTEN TO THE SHOW HERE
**Alessandro Rossellini Talks Viva Ingrid:
The grandson of the late iconic director Roberto Rosselini is on the line from Rome to talk about the legacy of his eminent grandfather, and how he reinvented the existing landscape of cinema in the last century as the founder of the socio-economically fueled Neo-Realism - also known as the Golden Age of Italian Cinema. And Alessandro, like Domenica, has embarked on his first film - a tribute to his grandfather's muse and spouse Ingrid Bergman, in his short documentary Viva Ingrid. Premiering at the current Open Roads: New Italian Cinema series at Lincoln Center, the cinematic collage explores what Ingrid Bergman meant to both his family personally, and to the world. Including Rossellini's vividly raw innovative filmmaking that led Bergman to depart Hollywood stardom, and her subsequent public persecution in the US for her relationship with Rossellini while both were still married to others - a denunciation and blacklisting reaching into the highest levels of the US government back then. Our conversation touches as well on Karl Marx, McCarthyism, and how Roberto Rossellini's venture into filmmaking first surprisingly flourished under Mussolini.
**Hello, My Name Is Doris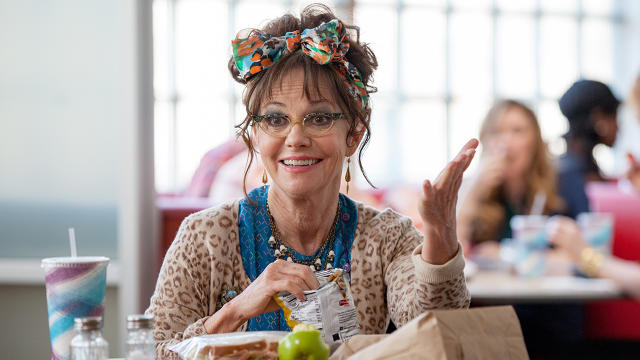 In no way Norma Rae and even less Mary Todd Lincoln regarding those characters she played, Sally Field nevertheless is not into complying with whatever stereotypical scraps - the narrow spectrum of witches or grannies - are allotted to older actresses in movies. Embracing her role with geriatric gusto in Michael Showalter's Hello, My Name Is Doris. Field displays elder empowerment with eccentric charm and bold sexual desire - however freaky or fantastical.
Field as Doris is a cheerful but resentful Staten Island hoarding spinster and office clerk who as the sole female child in her family, got stuck with taking care of her widowed mother until she passed away in Doris' old age. And, while her brother as the conventionally privileged male, got to take off to get an education and raise a family. But when her mother dies, Doris is hit with the realization of how life has passed her by.
That is, until she rediscover long dormant erotic desires when John (Max Greenfield), a friendly young art director is hired by the office. Mistaking his attention for affection, Doris in frantic makeover mode and daffy day-glo duds, ends up going to great lengths to make a fool of herself. But so not what it seems, her inner sassy senior is rejuvenating as hell, illusion and whatnot.
Field oozes a giddy and kooky self-confidence throughout, though at times veering toward self-parody when a little less might have been a lot more. But her take it or leave it journey into Doris' world, is best consumed discarding any preconceived notions at the door.
Arts Express:
Airing on WBAI Radio in NY and the Pacifica National Radio Network and Affiliate Stations.