** I think yeah, it means something to contribute to a story about human rights, it just always does - and there's just never a reason not to do it."
In Dubious Battle: A conversation with actor Vincent D'Onofrio.
The star of this John Steinbeck novel to screen adaptation about farm worker uprising in Great Depression California, is on the line to Arts Express to talk about his passion to take on the character of a rebel labor leader in this James Franco directed dramatic feature. And "the thrill of guerrilla shooting of the film, down and dirty, and no frills." While being part of a film, not unlike his roles in Stanley Kubrick's Full Metal Jacket, Spike Lee's Malcolm X, and starring as Abbie Hoffman in Steal This Movie, that speaks as well to the troubled times of this historical moment today.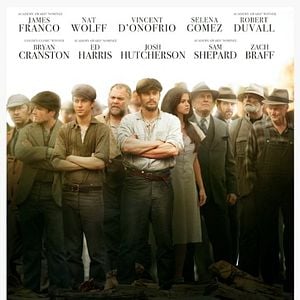 LISTEN TO THE SHOW HERE
** "I'm a journalist, that's what I do, speaking to people whose opinions are totally different to mine - kind of having them shout at me, that's what I live for."
My Scientology Movie: Filmmaker Louis Theroux phones in.
The BBC satirical journalist ventures into the murky depths of the intimidating religious corporate empire. Casting himself as the protagonist on a co-journey with a former leader turned whistleblower defector, Marty Rathbun. While uncovering why the Feds gave a pass to the church despite their many civil rights violations charges, and what it might have to do with 'consensual self-abasement'; and what's up with the possible connection of Scientology to ISIS and even McDonald's - as a corporate franchise serving up spiritual burgers instead.
** "Thank you to the Academy for endorsing the truth of what the film says, which hundreds of thousands of people in this country know - that the most vulnerable and poorest people are treated by the government with a callous brutality that is disgraceful."
Best Film of The Year Not Coming To the Oscars Anytime Soon:
Esteemed UK veteran director Ken Loach has just been honored for Best British Film at the BAFTA Awards in Great Britain, in addition to multiple international accolades and the Palme D'Or top prize at Cannes. But the kind of movie about social and economic oppression routinely snubbed by the Oscars for conventional fare instead.
Loach in his award speech denounces just who is responsible for the brutality of the system seen in his film - and we'll hear exactly whom he blames and why.
Arts Express:
Airing on the WBAI/Pacifica National Radio Network and Affiliate Stations
DYING LAUGHING REVIEW
Though weirder aspirations definitely exist on the planet, pursuing the vocation of standup comic certainly competes for that category of strange if not somewhat perverse professions. At least according to the supremely candid, combo dark, down and dirty documentary Dying Laughing. Directed by Paul Toogood and Lloyd Stanton, Dying Laughing somehow manages to assemble a nearly complete stellar treasure trove Who's Who of living standups in the hear and now, as they bare their souls, when not funny bones, raw and real on camera.
Functioning as a kind of metaphorical Freudian couch with intimations of Rupert Pupkin reveries, the film proceeds at a lively pace, soliciting surprisingly damaged soul introspective revelations from Kevin Hart, Jamie Foxx, Chris Rock, Jerry Seinfeld, Garry Shandling, Sarah Silverman, Cedric The Entertainer, Eddie Izzard, Billy Connolly, Steve Coogan, Mike Epps, Jerry Lewis, DL Hughley, Amy Schumer, and countless others. What led them down this path, what keeps them focused on making people laugh no matter what, and who are they, really? Not that there aren't plenty of punch line detours throughout, serving as a seemingly kind of psychological pressure cooker release periodically.
Meanwhile, brash self-parody intermingles constantly in conflicted fashion, with poignant interludes. And how these comics have steeled themselves for dealing with ridicule, shaming, sexism and racism on stage - and perhaps worst of all for many of them - audience silence, boredom and indifference. And in a kind of collective craving of approval nearly as essential to their lives as the air they breathe. While other revisited moments, like the more often than not bleak life on the road - conjuring excruciating loneliness, alienation, dinner from vending machines and motels eliciting scary thoughts of being surrounded by imagined blood stains scrubbed from crimes scenes- are filled with uncommonly peculiar poetry in this movie.
Prairie Miller