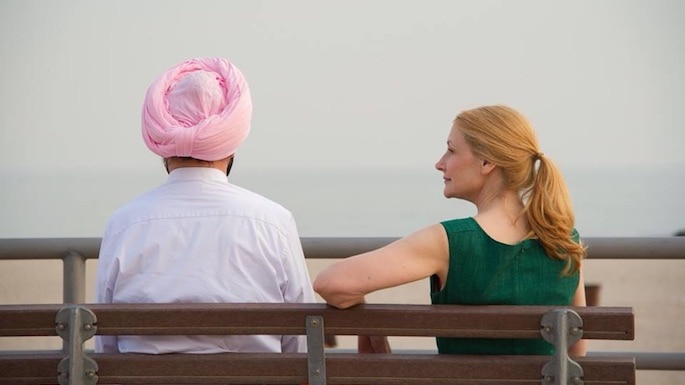 If cross-cultural or racial deep friendships hardly exist in real life, they're nearly nonexistent in movies. Of course there have always been those patronizing portraits on screen of nurturing and devoted black servants in the background tending to the needs of white lives, and more recently similar immigrant nannies. And, in that classic case of people of color cinematically consigned to the shadows of the white man's world, is of course The Lone Ranger's devoted cipher, Tonto.
Though more recently, some similarly secondary characters in films about white protagonists have been afforded a bit more elbow room to venture forth a little front and center. And with a fresh and more genuine and utterly surprising reflection of the multi-cultural world we actually inhabit, warts and all. For instance, in the case of Jacob Tierney's screen satire Preggoland, Danny Trejo is Pedro, an immigrant who mops floors in a supermarket. But he confronts a young female cashier there (Sonja Bennett) faking a pregnancy, to tell her that she is perpetrating a hoax. Because well, he happened to have been a doctor in his own country, and knows about these things.
Then there's Spanish director Isabel Coixet's Learning To Drive, a bittersweet urban road movie in which Ben Kingsley plays Darwan, a gracious, supremely sensitive Sikh immigrant driving lesson instructor by day and cabbie by night. And barely making ends meet supporting himself and his undocumented nephew dodging immigration authorities. But a man who back in India, from which he fled for political asylum here, was once a university professor. And he finds himself developing a strange yet tenderly awakened bond with one of his passengers, Wendy (Patricia Clarkson), after she's rudely dumped by her spouse of two decades for a younger woman, during a confrontational cab ride home one night.
In no way shades of Driving Miss Daisy, The Odd Couple, and especially not Taxi Driver, this cross-cultural combo potentially budding romance and buddy movie conveys a delicately layered and eloquently crafted emotional bond built between two conflicted people who couldn't be more different. And while transcending those cultural and gender barriers in unanticipated ways, even as Darwan suffers post-9/11 persecution and racial profiling here. And Wendy endures abandonment and loneliness as a prominent literary critic typically deemed too preoccupied intellectually with her work to defer as a mere female to a man.
Though without giving too much away, one element in the story is questionable. Namely, a perceived implicit approval of arranged marriages. And in that regard, settling for what convention dictates rather than like the rest of this intriguing film, venturing outside of that box.
Prairie Miller